Juliana Anthony Hernandez
⠀⠀⠀
Juliana is the founder of La Joya Press. She is a bilingual elementary teacher who began her career in Texas before she moved to San Diego to also be a teacher there. She has worked with many immigrant and refugee populations and children in her schools and in her communities. She believes that books can help children feel seen and loved and introduce their world to others.
⠀⠀⠀
A life-long traveler, Juliana has visited many countries and lived in Spain. Her travels have shown her the diversity around the world, but also the many ways we are all the same, and how books can introduce our differences and similarities to each other to build a better world.


As a mother, Juliana is very hands on, taking her sons around San Diego to explore the zoo, the ocean, the city and planning new art and city adventures every day. She documents her creative learning activities on Instagram. As part of this learning, she is always searching for quality reading materials and stories that help her three young boys learn more about the world and the diversity around them. She lives in La Jolla, CA with her husband, Derek, and their sons, George, Julián and Tomás.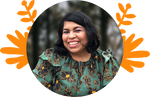 Elena Gaona
⠀⠀⠀
Elena is the co-founder of La Joya Press. She is a communicator who has focused on issues of equity and representation. Growing up in Dallas, TX, tagging along with her parents as they cleaned offices, she thought she was the only kid in the world whose parents were janitors until she read "The Janitor's Girl" by Frieda Friedman. The book made her feel less alone and showed her the power of books. As a mother of two daughters, she wants her children to feel limitless and believes books have the power to help.
⠀⠀⠀
Elena is a communications director at a nonprofit in Washington, DC and blogs about Latino/as/x in the District. Prior to this she held communication roles at other nonprofits and government agencies, including UnidosUS, the Center for American Progress, the National Association of Hispanic Journalists, the U.S. Department of Housing and Urban Development and the Centers for Medicare and Medicaid. Before that she was a newspaper reporter writing about diversity, higher education, business, agriculture and general news at the San Diego Union-Tribune, the Los Angeles Times, La Opinión and the Daily Press. Elena is married to Keith and they have two daughters, Maya and Fabiola.