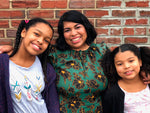 The musical Hamilton touched such a nerve with me with me when it asked: "Who tells your story?" 
So many times in my life, I have wondered this. Who is telling our stories? The stories of all of us, including Latino, Black, indigenous, Asian heroes, history, people, and culture. When I was little, I wanted to see books with characters who looked like me and it was so rare when I did. 
Today there are many more books for children of all cultures to see themselves. And yet, when I look at children's television, movies and popular book series, there is still so much more to tell, so much deeper to learn, so much farther to go. 
The lives of all our children are enriched with culture, diversity, knowledge and just good fun stories! My friend and partner Juliana and I are mothers and storytellers. We tell our own children the stories our Mexican parents passed down to us, and now we want to share these stories, fun and culture with other families. 
Through our new publishing company La Joya Press, we hope our bilingual and multicultural books add representation, knowledge, love and cultural connections to the world, and inspire new generations of children to tell their own stories. 
Thank you for joining us on this new adventure!