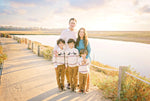 La Joya Press: A Dream Come True
It was always a passion of mine to teach children, starting with my first job before college when I served as a summer camp leader for kids in West Dallas and then found myself teaching Sunday school classes, too. I felt it immediately: I had found my calling and I had to follow it. 
In my first job I taught bilingual education classes in Oak Cliff, the Latino part of Dallas. For three years I learned so much from my students, even though I was the teacher. It was a very humble and fulfilling profession. I left to perfect my Spanish, moving to Guadalajara for a summer to learn more about the language and to travel around Mexico. Soon afterwards I saved enough money to live in Europe for a year. I ended up being an English teacher at various schools throughout Madrid.
Visiting and living in these two beautiful countries changed me. It made me think more globally and made me stronger in so many ways. Meeting so many people, teaching methods and cities made me stretch outside my comfort zone and it allowed me to grow stronger as a teacher.
As soon as I moved back to the U.S. I pursued my master's in education because I wanted to keep growing and making a difference with my students. Sometimes that meant I was the only Mexican-American role model in their lives, so it made me want to be fully present in their lives. We did so many fun projects to connect to their experiences and our culture, including murals, art, traditional Mexican dances, and classic stage plays.
I wanted my students to be loud, to be heard and to have a voice.
But many times, I struggled to find literature that represented my students. It was frustrating, and I was very limited with my resources. I always thought that one day I would write books – lots of books – that could tell the stories of our culture.
It was a far-off dream then. I would tell family members "One day, I'll write a book." But time passed, and I got married and had three beautiful boys. I knew I had to make time for this goal, but I was really busy and didn't know when or how it would happen.
Then it's like time stood still when COVID-19 hit. Even though I was then homeschooling all 3 boys, there were less distractions and I knew it was the time to launch La Joya Press. Knowing I couldn't do it alone, I invited my best friend Elena to join me in the adventure of a lifetime. 
It has been a fun and challenging year, but we are so excited for this moment! We hope you love our stories and support us in this new business. We look forward to hearing your opinions and can't wait to see all children being represented through our books.
Like our company name. La Joya (the jewel,) we know our children are the most beautiful treasure we have and we want each and every child to be represented and respected and loved through our books.
Thank you for your time and support!
Love Juliana